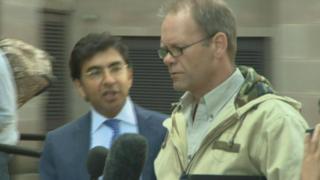 A convicted fraudster is involved with a group collecting in the street in the name of children's cancer, a BBC investigation has found.
Natural Prevention Children's Cancer Support has been spotted several times in Pontypridd, Rhondda Cynon Taff.
It bypasses rules on street collections by selling leaflets for 50p, claiming to provide nutritional advice for families of children with cancer.
But X-Ray found the advice comes from convicted fraudster Kevin Wright.
Natural Prevention, run by Tyler Parton, collects across Wales and England and is not a charity. Mr Parton declined to comment on X-Ray's investigation.
Wright said he did not make any money from children's illnesses and had not hidden his criminal record.
After his son had cancer in 2005, Wright claimed his recovery was linked to his natural organic diet.
But in 2013 he was jailed four years for theft and fraud involving £1m he had raised for children's cancer causes.
He has since been released and has been advising parents on nutrition.
X-Ray phoned Wright pretending to be the mother of a four-year-old girl with cancer.
He said: "You want to be as close to eating nothing from a tin, jar, carton, packet or bottle as you can get.
"Don't use any cow's milk products of any description. Obviously, all pork products are out the window.
"The thing is with these highly refined sugars they really do affect the immune system, they really are very, very nasty, you know. The NHS really don't understand."
The BBC One Wales programme played some of Wright's advice to cancer specialist Dr Martin Rolles, from the Royal College of Radiologists in Wales.
Dr Rolles said: "Once someone has a diagnosis of cancer there is very little evidence that substantially changing the diet has any major effect on the cancer itself."
Wright was also sometimes dismissive of the advice given by NHS doctors.
He said: "Ask a doctor, say, 'is it okay to have a night light on at night?'
"If he says 'oh yeah, yeah, no problem', you need to look at him and think you are an idiot, mate. There is no doubt that artificial light at night increases your risk of cancer.
"All they know about is drugs. That's all they know about. "
Wright said his only involvement with the business was to answer the phone and provide support to parents. He said he never made any money from children's illnesses.
He said feeding children fast food or fizzy drinks did not make sense, whether they were unwell or not. He denied seeking to undermine doctors with his advice.
X-Ray is on BBC One Wales at 19:30 BST on Monday 15 October and repeated on Tuesday 16 at 16:45